Aircraft Renters:
The identity of an individual renting an aircraft should be verified by checking an individual's government-issued photo ID as well as his or her airman certificate and current medical certificate necessary for that operation.
In addition to any aircraft-specific operational and training requirements, a first-time rental customer should be familiarized with local airport operations, including security procedures used at the facility.
Operators providing rental aircraft should be vigilant for suspicious activities and report them to appropriate officials.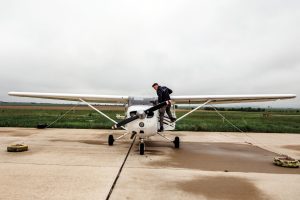 Aircraft:
Ensuring that door locks are consistently used to prevent unauthorized access or tampering with the aircraft.
Using keyed ignitions where appropriate.
Storing the aircraft in a hangar, if available, and locking hangar doors.
Using an auxiliary lock to further protect aircraft from unauthorized use. Commercially available options for auxiliary locks include locks for propellers, throttle, and tie-downs.
Ensuring that aircraft ignition keys are not stored inside the aircraft.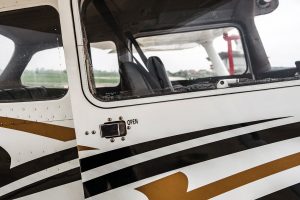 Airport Community Watch Program:
If possible, establish an airport community watch program-
Coordinate the program with all appropriate stakeholders including airport officials, pilots, businesses and/or other airport users.
Hold periodic meetings with the airport community.
Develop and circulate reporting procedures to all who have a regular presence on the airport.
Encourage proactive participation in aircraft and facility security and heightened awareness measures. This should include encouraging airport and line staff to 'query' unknowns on ramps, near aircraft, etc.
Post signs promoting the program, warning that the airport is watched. Include appropriate emergency phone numbers on the sign.
Install a bulletin board for posting security information and meeting notices.
Provide training to all involved for recognizing suspicious activity and appropriate response tactics. This could include the use of a video or other media for training. The following are some recommended training topics:
Aircraft with unusual or unauthorized modifications.
Persons loitering for extended periods in the vicinity of parked aircraft, in pilot lounges, or other areas deemed inappropriate.
Pilots who appear to be under the control of another person.
Persons wishing to rent aircraft without presenting proper credentials or identification.
Persons who present apparently valid credentials but who do not display a corresponding level of aviation knowledge.
Any pilot who makes threats or statements inconsistent with normal uses of aircraft.
Events or circumstances that do not fit the pattern of lawful, normal activity at an airport.
Utilize local law enforcement for airport security community education.
Encourage tenants to make their staff aware of the airport watch programs.
---